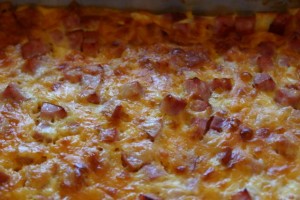 Hiram's health issues put the kabosh of our annual trek to Idaho Family Camp in July. I've been thinking about the good food we'll be missing this summer. My favorite meal is Sunday morning brunch, which is an extravaganza of homemade sweet rolls, fresh fruit plates, and egg bakes.
Perhaps it's just as well we won't be there this year, as I'm not sure my non-dairy will power is great enough to resist the egg bakes quite yet. Maybe by July 2013, the recently begun desensitizing treatment will have kicked in, and I'll be able to indulge once again…in moderation. Until then, I hope you and your family enjoy this Sunday Morning Brunch Egg Bake recipe.
Sunday Morning Brunch Egg Bake
The night before brunch, cook:
1 pound chopped bacon, OR
1 pound crumbled sausage, OR
1 pound cubed ham
Grease a 9 X 13 pan and sprinkle with Parmesan cheese. Then line pan with:
6 – 8 slices of bread with crusts removed
2 cups shredded cheddar cheese
Sprinkle meat over cheese, then mix together:
1 dozen eggs, lightly beaten
1 cup milk
Pour eggs and milk over bread, cheese, and meat.
Refrigerate overnight. Bake at 325 degrees for 1 hour or until done.