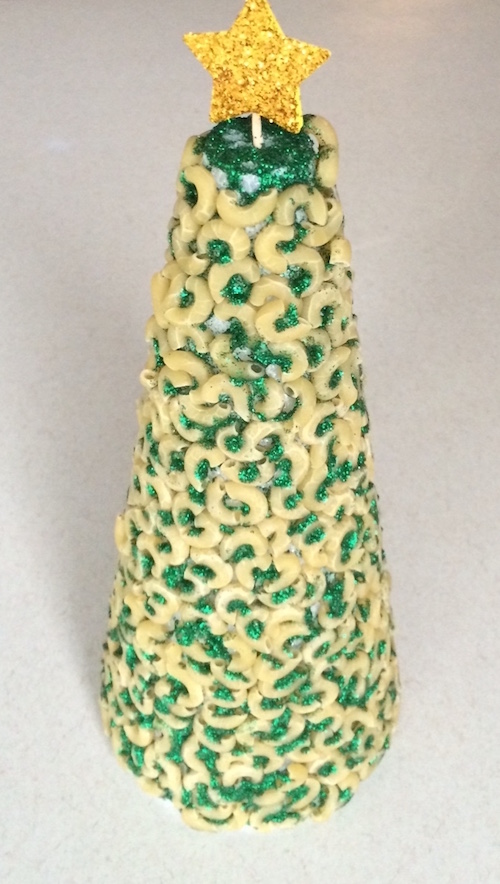 The 2015 Christmas season has been a strange one so far. All our family gathering were or will be at the homes of other rellies. ThanksChristmas with extended family at my brother's on Thanksgiving weekend. Christmas celebration with both our kids and their families in Minnesota last weekend. Painting walls with our daughter and son-in-law in Wisconsin over Christmas weekend.
Like I said it's been a strange one.
Add to that the Man of Steel's bum back and my bum hand, and we made a tandem executive decision to not decorate the house for Christmas. No garland. No twinkly lights. No bowls filled with ornaments. No Christmas card holder. No holiday mugs. Not even our Christmas tree.
As the Man of Steel likes to say, we're jiggy with that.
Only two reminders of the season have graced our home during the Advent season. The first was the stunning, homemade macaroni and glitter glue Christmas tree I created for my hand therapist. The tree sat on our dining room table for as long as it took me to painstakingly glue each piece of dried pasta to the oh-so-cleverly-hidden styrofoam cone with my left hand. Which is a really long time for someone who's left hand has always let her right hand hog the glory.
But the fruit of my labor is no longer on the table.
Because I gave it to the hand therapist last week. It rendered her speechless. Apparently four weeks of therapy has not been sufficient time for us to get to know one another well. If we'd known each other better, she would have realized the tree was a gag gift. And I would have realized she's too kind and caring to believe one of her patients would give her a gag gift.
The Christmas tree now graces the counter of the hand therapist's room.
So only one vestige of Christmas remains at our house. It's the growing mountain of Christmas cards and letters from friends and family. They just keep coming even though last year, for the first time since 1982 my Christmas letter never got written. Actually, that's not true. It was half-written when we got the call that a room was open for Mom at the assisted living facility where she now lives. By the time the move was done, Mom's finances were once again in order, and she'd adjusted to her new home, it was Easter.
This year, I'm drawing a line in our strange Christmas sand.
I promise that this year's Christmas letter will get written and sent. Not by Christmas. But maybe by the New Year. It may not look a lot like Christmas around here, but with every Christmas card I send, it'll feel like it.
Merry Christmas!