Life around here is getting into a making-it-through-fall-with-1-broken-foot-and-a-pregnant-woman groove. Basically, that means we're always on the hunt for recipes that are tasty, nutritious, easy, and economical. Now that we've become one of "those families" with a variety of food allergies–dairy for Jolene, Anne, and Kailen, soy (for sure) and gluten (perhaps) for Tad–the recipes also need to be adaptable to those restrictions.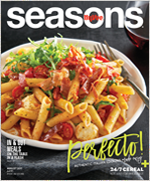 Today's recipe for beef ragu was found in a free magazines distributed by Hy-Vee, a regional grocery store chain. Made in a slow cooker, it meets the "easy" requirement. The main ingredients listed were nutritious, inexpensive ones like tomatoes and carrots. I substituted an inexpensive chuck roast for the flank steak to make it even more economical. Four of the five of us thought it was mighty tasty. The Man of Steel warmed up to the flavors once he, as our token adult dairy eater, sprinkled it with parmeseon cheese. The only modification made was preparing gluten-free noodles for Tad.
The only fail of the night was when the cook forgot to take a picture before she started eating. But I managed to prepare the entire meal and set the table with no help (other than asking someone else to drain the noodles) despite a broken foot, so I'm feeling good. We all agreed this recipe is a keeper that can be doubled or tripled to make freezer meals. So it'll hit our table again, and I'll snap a picture then. In the meantime, here's the recipe:
Slow-Cooker Beef Ragu
1 1/2 pounds chuck steak
3/4 teaspoon salt
1/2 teaspoon black pepper
2 (14.5 oz) cans diced Italian-style tomatoes with onion and garlic
1/4 cup water
2 medium carrots, chopped
6 cloves garlic, peeled and crushed
2 bay leaves
1 teaspoon Italian seasoning
3 tablespoons tomato paste
12 oz. wide egg noodles, cooked and drained
Cut chuck roast into chunks and place in slow cooker. Add tomatoes, water, garlic, carrots, bay leaves, and Italian seasoning. Stir well. Cover and set cooker on low for 5-6 hours. Discard bay leaves and stir in tomato paste. Serve over cooked noodles and enjoy!
SaveSave