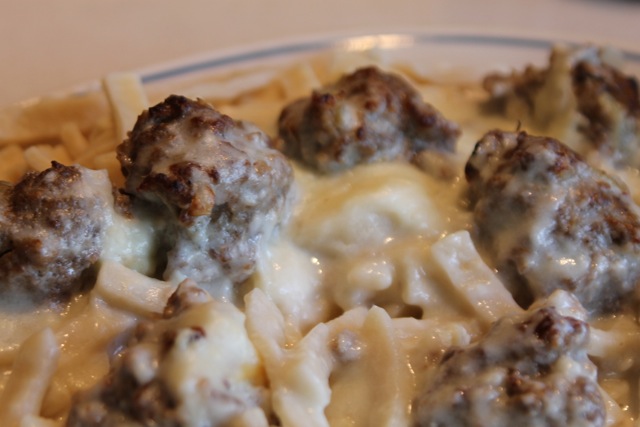 Being on the road doesn't leave much time to try new recipes. But before leaving the Man of Steel on his own, I prepared several meals he can heat and eat. One of them was Balkan Meatballs, the ultimate chilly weather comfort food. Best of all, the dairy-free version (substitutions in parentheses) is as tasty as the original version.
This recipe's been featured here on the gravel road before, but it's so good it deserves another look.
Balkan Meatballs
1 egg
1/4 cup milk
1/3 cup seasoned bread crumbs
3/4 teaspoon salt
3/4 teaspoon sugar
1/4 teaspoon ginger
1/4 teaspoon nutmeg
1/4 teaspoon allspice
1 pound lean ground beef
1/2 pound ground turkey
2/3 cup finely chopped onion
1 – 12 ounce package of frozen Reames Noodles
2 tablespoons butter (or Earth Balance buttery vegan sticks)
1/4 cup flour
2 cups milk (or almond milk)
In a medium-sized mixing bowl, beat egg with milk or almond milk. Mix in dry bread crumb, salt, sugar, and spices. Add beef, turkey and onion. Mix thoroughly. Shape mixture into balls the size of walnuts and place on broiler pan. Broil until lightly browned. Cool.
Cook noodles according to package directions. At the same time, melt butter or buttery vegan stick in large skillet. Add flour, stirring constantly until mixture is smooth and bubbly. Gradually stir in milk, stirring constantly. Heat to boiling and stir one minute until mixture is thick and smooth. Add meatballs; reduce heat. Cover and simmer 15 minutes. Serve meatballs over the noodles.
Note: I usually make a double batch of meatballs and use 1/3 for supper, then divide the remaining meatballs into two quart freezer bag and put in freezer to use later.