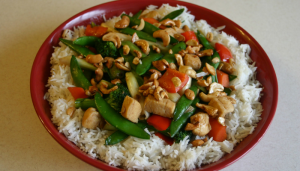 Hmm…I noticed that the last four recipes posted on this blog have been for dessert. With shorts weather just around the corner, maybe you'd appreciate something tasty and healthy. So here goes.
A few years ago, Anne begged me to get the recipe for Cashew Chicken from her best friend's Rachel's mom, Joni Gainer. So I did, and the dish quickly became one of our family favorites. The vegetables in the recipe provide quantity guidelines, but you can swap those listed with whatever is in season. Try green or wax beans, cabbage, cauliflower, zucchini, summer squash, grape or cherry tomatoes, different varieties of peppers, and sugar snap peas.
The last time I made this, I'd just returned from a week of travel. When I went to the cupboard, the peanut butter jar was empty, so I substituted almond butter. The cashews were gone, so I used almonds instead. Conclusion: Jolene's Almond Chicken is tasty, too.
Joni's Cashew Chicken
3 tablespoons soy sauce
3 tablespoons peanut butter
3 tablespoons honey
4 tablespoons sesame or peanut oil
1/2 cup cashews
1 whole chicken breast, cut into bite-sized pieces
3 cups green onions, washed, topped, and cut into one inch slices
1 cup peeled carrots, sliced into thin, one inch pieces
2 cups broccoli florets washed and cut into bite-sized pieces
3/4 cup sweet red pepper, washed, seeded, and cut into half-inch pieces
2-3 cups pea pods, washed
Sauce: Combine soy sauce, peanut butter and honey in a 1 cup measuring cup. Heat in the microwave for one minute on high. Stir until peanut butter is mostly melted. Set mixture to the side.
Turn burner on high and heat 1 tablespoon of oil in a large frying pan or wok. Add cashews and stir for one minute, until cashews begin to brown. Spoon them onto paper towels to drain. Heat another tablespoon of oil in pan. Turn burner to medium high and add chicken. Stir until meat is completely cooked and begins to brown. Spoon chicken into a bowl and set aside.
Heat last two tablespoons of oil in pan and add vegetables, one kind at a time, at one minute intervals. . Add chicken and stir until mixed. Pour sauce over all and stir until the stir fry ingredients are coated and sauce is bubbly.
Spoon mixture onto a bed of rice and sprinkle with cashews. Serve hot.