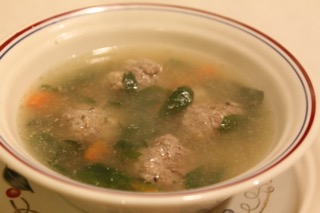 This recipe for Italian wedding soup comes from my sister and brother-in-law. They served it during our Thanksgiving stay with them. The Man of Steel raved about it and couldn't get enough of it. So our hosts graciously pointed me to the recipe which they found at allrecipes.com.
They made in dairy free by not adding Parmeson cheese to the meatballs. Instead, they put the cheese on the table so diners could sprinkle some on top of each bowlful. Even with that alteration, this soup immediately received Hiram's coveted seal of approval. And it received a second ringing endorsement when I served it recently at our house, too.
Italian Wedding Soup, Dairy Free Version
Meatball ingredients:
1 pound extra-lean ground beef
2 eggs, beaten
1/4 cup dried bread crumbs1 teaspoon dried basil
3 tablespoons minced onion
Soup ingredients:2 1/2 quarts chicken broth
2 cups spinach – packed, rinsed and thinly sliced
1 cup seashell pasta
3/4 cup diced carrots

Directions
In a medium bowl, combine the beef, egg, bread crumbs, basil and onion. Shape mixture into 3/4-inch balls and set aside.

In a large stockpot heat chicken broth to boiling; stir in the spinach, pasta, carrot and meatballs. Return to boil; reduce heat to medium. Cook, stirring frequently, at a slow boil for 10 minutes or until pasta is al dente, and meatballs are no longer pink inside. Serve hot with Parmesan cheese sprinkled on top.
Save
Save