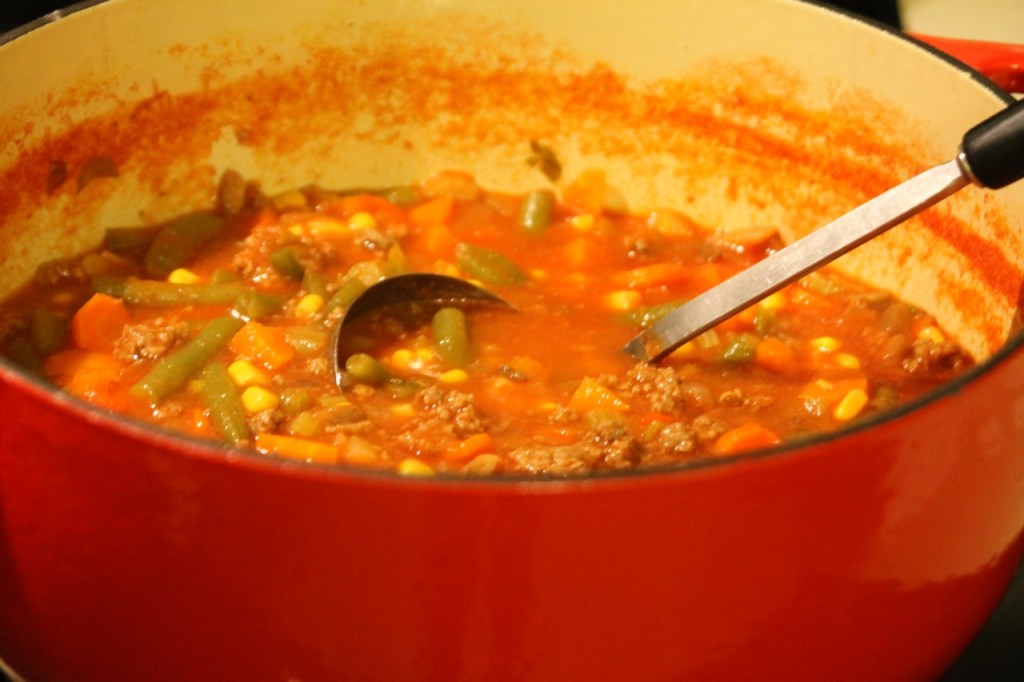 Confession time…I've been doing a lousy job of remembering to photograph meals for the past 2 months. Blame it on Camp Dorothy frivolity in December. Blame it on the holidays. Blame it on being distracted by house guests. But wherever the blame may fall, recent food photographs leave something to be desired.
Like the above photo of Hearty Hamburger Stew. The picture is of a double batch. But you can see how much the Man of Steel, with a little help from me, managed to tuck away a good portion of it. This stew was hit and very, very easy to make. The original recipe comes from Once a Month Cooking by Mimi Wilson and Mary Beth Lagerborg. The original cook book is out of print, but a revised version came out in 2007.
Hearty Hamburger Stew
1 pound lean ground beef or turkey (2 1/2 cups browned)
1 1/4 cups chopped onion
2 cups peeled and sliced carrots
1 cup chopped green bell peppers
1 cup sliced fresh mushrooms
1 16-ounce can cut green beans, drained
1 16-ounce can cut corn. drained
3 stalks sliced celery
1 46-ounce can tomato juice
2 teaspoons sugar
1 teaspoon celery seed (I omitted this)
Salt and pepper to taste
Brown grown beef or turkey (I used a half pound of each) in a large dutch oven. Add onion, green pepper, and celery. Saute until tender.
Mix in remaining ingredients. Bring to a boil. Reduce heat. Simmer covered 30 minutes, stirring occasionally. Cool and freeze. Can be frozen and thawed for later.