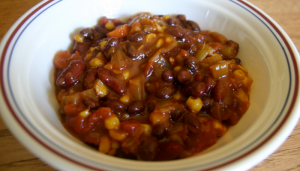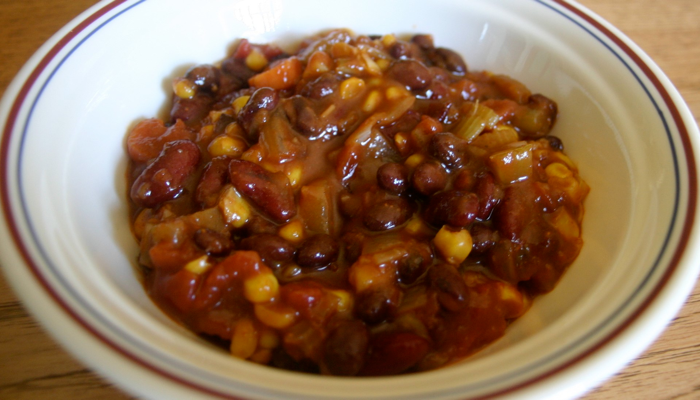 A year or two ago, I ran across a chili recipe in American Profile Magazine. Having been raised by a former cattle farmer whose motto was no meal is complete without meat, I viewed this no meat version with skepticism. But finally, my daughter and I tried it when she was home on a college break, and guess what? We loved it.
Now it's part of my arsenal when the newlyweds – some of whom are partial or complete vegetarians – come home to visit. So it was on the menu last weekend and was pronounced a rousing success. To mollify Hiram, who isn't a chili lover even when it has meat, I reduced the amount of beans (the original recipe calls for 3 cans of black beans). Even he conceded it was "pretty good" when sprinkled with shredded cheddar cheese.
For those of you who do love chili and are looking for a no-meat version, give this one a try. It makes a big batch, so you can serve half and freeze half for later.
Healthy Vegetarian Chili
2 tablespoons olive oil
1 medium onion, chopped
2 celery stalks, chopped
1 medium carrot, chopped
2 garlic cloves, minced or crushed
2 cups whole kernel corn
2 (15-ounce) cans black beans, rinsed and drained
1 (15-ounce) can kidney beans, rinsed and drained
2 (14-ounce) cans diced tomatoes, undrained
1 (10-ounce) can diced tomatoes with green chilies, undrained
1 cup medium salsa
1/2 cup ketchup
1 (14 ounce) can reduced-sodium vegetable broth
1 (1-ounce) package chili seasoning
1 teaspoon chili powder
1 teaspoon cumin
Heat oil in a stockpot over medium heat. Add onion, celery, carrot, and garlic; cook until union is translucent, about 4 minutes, stirring frequently. Increase heat to high. Add remaining ingredients.
Bring to a boil, reduce heat and simmer, uncovered, stirring frequently, until vegetables are tender and flavors are blended, about 40 minutes. Serves 16.