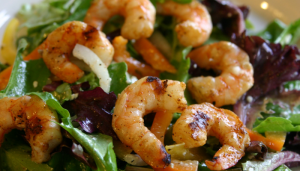 Today's recipe is a hot summer day delight – healthy, pretty, easy to make, and packed with flavor. It's my take on a recipe published in this weekend's American Profile magazine. Which means instead of slavishly adhering to the fresh veggies listed in the recipe and going grocery shopping, I used what was in my fridge. And I halved the recipe since we're living in the empty nest.
According to Hiram, the end result was one of the best meals ever. (Read that as he used his garlic bread to mop up every bit of dressing left on his plate.) Which means I'll be using this recipe often, switching ingredients to match whatever is in our CSA share for the week. Here's the recipe as it appeared on our table this week…and tag, you're it. So leave a comment about how you adapted it to what's in your refrigerator or garden.
Greek Salad with Grilled Shrimp
1 head romaine lettuce chopped (or an equal amount of other greens)
2 sweet peppers, chopped
1/2 medium onion, chopped
1/3 cup kalamata olives, pitted
1/2 cup crumbled feta cheese
(The original recipe called for two chopped tomatoes and a chopped cuke)
Toss all together in bowl and put in refrigerator. Then prepare the shrimp as follows.
1 pound raw shrimp, shelled and with tails off
1 1/2 teaspoon olive oil
1/2 teaspoon cajun or creole seasoning
Toss shrimp with oil and seasoning. Thread on skewers and grill for 1 – 2 minutes per side, until shrimp is done. Put on a platter.
Mix together the juice from 1 lemon, 6 tablespoons olive oil, 1 teaspoon dried oregano, and freshly ground black pepper to taste. Drizzle over lettuce mixture and toss well. Divide equally among 6 plates. Arrange shrimp on top and serve.