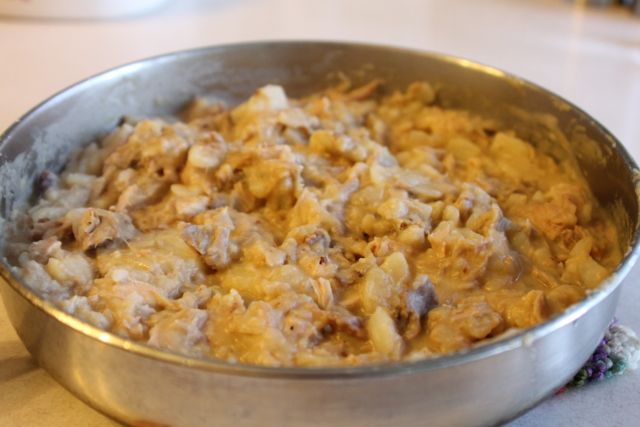 Turkey hash is one of the few recipes handed down to our family by Hiram's mom, Elsie Philo. She was, by her own admission, a reluctant cook. Part of that reluctance may have stemmed from learning to cook in the territory of Alaska in the 1950s–on a wood stove, with limited provisions, while raising three very active little boys, and teaching school.
Fresh milk was hard to come by, even though her husband was a dairy farmer, and she added canned evaporated milk to almost every main dish. Turkey hash was no exception, and for years I made it according to her recipe. Not too long ago, I finally worked up the nerve to try it with almond milk. To my surprise, it tasted delicious. It even received Hiram's coveted seal of approval. So here's the non-dairy version (dairy ingredients are in parentheses) of the ultimate Philo comfort food, turkey hash.
Elsie Philo's Turkey Hash
1/4 cup margarine (1/4 cup butter)
5–6 medium potatoes, peeled, washed, and sliced in thin rounds
1 large onion, coarsely chopped
2 cups cooked turkey, chopped
1 1/2 cups unflavored, unsweetened almond milk (1 large can evaporated milk)
1/4 cup flour (omit for dairy version)
Set a large frying pan over medium heat. Add margarine and melt.
Put sliced potatoes in the pan. Cover and cook for 5–10 minutes, stirring occasionally. Stir in onions and cover again. Cook for 5–10 minutes more, stirring occasionally and adjusting heat to avoid burning, until potatoes are soft. Stir in turkey. Cover and cook for 5 more minutes, until turkey is warmed through.
Sprinkle a few tablespoons of the flour on top of the meat and vegetable mixture. Stir until flour is absorbed. Repeat until all flour is absorbed. Pour 1/3 cup of almond milk and stir well. Repeat until the milk is gone. Continue cooking until the hash begins to bubble and the milk thickens.
Salt and pepper to taste at the table.