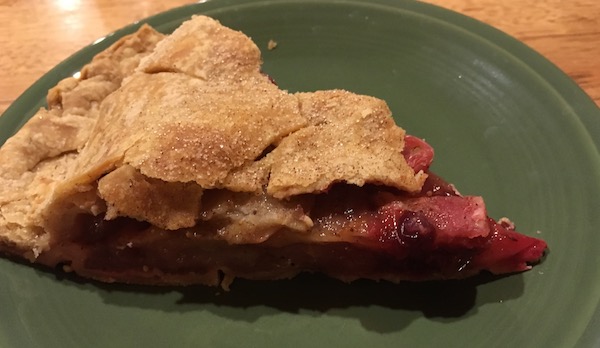 Yes, that slice of cranberry-apple pie looks delicious. And as everyone in the Home Again gang can testify, it tasted even better than it looks. Anne and I mentioned this pie in our live Facebook video that showed how to make Grandma Conrad's Never Fail Pie Crust.
I promised to publish this recipe more than a month ago. But between my broken foot recovery, the men racing to complete a basement remodel project before the baby arrives, Anne's contractions coming and going for at least a month (and still 3 weeks until her due date), and Tad being 2-and-a-half, our three generation household has been a three ring circus. So Anne and I would like to apologize for the lack of a new podcast episode for the second week of January 2018 and for not completing the promised pie making video on our Patreon page. To be honest, the video probably won't happen for quite a while and new podcast episodes will be scarce until Anne and the new baby, once she's born, get into a manageable groove.
However, as we mentioned during our first Facebook live video of 2018, I am walking again. So at least I can share the promised recipe for cranberry-apple pie. We created it after we discovered the pie apples we froze last fall make a rather bland pie. Because we had purchased and frozen extra cranberries when they were on sale at Thanksgiving, we searched the internet for cranberry-apple recipes. But we wanted a simple recipe, and the ones on the internet required oodles of spices, orange zest and more. Once again, I pulled out the 1977 Betty Crocker Cookbook, which was a wedding present from my grandmother and found the simple recipe we wanted. As usual, we used much less sugar since Hiram tries to watch his sugar intake. We replaced the flour in the filling with minute tapioca because we like it better. We also used Earth Balance Buttery Vegan Sticks instead of butter since 3/5 of our household can't do dairy.
Cranberry-Apple Pie
3 cups peeled, sliced pie apples
2 cups whole cranberries, washed
1/2–3/4 cup sugar, depending on taste
3/4 teaspoon cinnamon
1/4 cup minute tapioca
2 tablespoons Earth Balance Buttery Vegan Sticks
Cinnamon sugar in a shaker
Preheat oven to 425°. In a bowl combine apples, cranberries, sugar, cinnamon, and minute tapioca. Mix thoroughly until fruit is coated. Turn into a 9 inch pastry-lined pie pan. Dot fruit with Earth Balance. Carefully cover with top crust and crimp edges to seal. With a knife trim off any excess pie crust. Cut small air vents in the top crust. Spritz top crust lightly with water and sprinkle with cinnamon sugar.
Bake pie at 425° for 15 minutes. Turn oven down to 375° and bake for 45 minutes longer or until the center filling bubbles. If top crust begins to brown early, lightly cover with a sheet of aluminum foil. Take out of oven and place on a wire rack to cool.
SaveSave
SaveSave
SaveSave
SaveSave