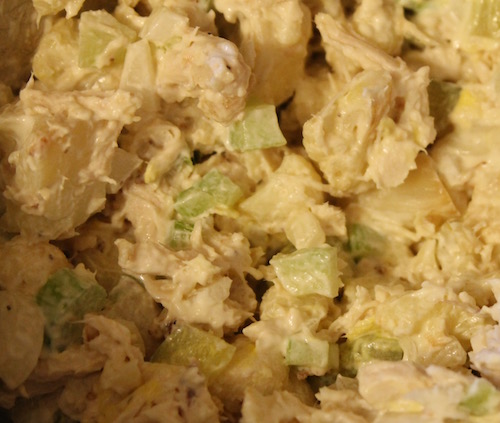 Sharing the kitchen with my daughter and her family has many advantages. One of the greatest advantages is that I am in charge of only half the meals. Another is the opportunity to learn new recipes from the cook who's in charge of the other half of the meals. Here's her take on chicken salad. I never would have guessed how much cauliflower can add to this simple dish.
Anne's Chicken Salad
2 chicken breasts, cooked and cubed
1/2 large onion, chopped
2 celery stalks, chopped fine
4 large pickle spears, chopped
1 small head cauliflower, chopped into bite-sized pieces
1 cup mayonnaise
salt and pepper to taste
Saute cauliflower in olive oil until some pieces begin to brown. Remove from heat.
Combine chicken, onion, celery, pickles, and cauliflower in a large bowl. Add mayonnaise 1/4 cup at a time until it reaches the consistency you like. Add salt and pepper to taste. Refrigerate 2-4 hours before serving with your favorite bread or on a bed of lettuce.
Save