The Basics
Thank you for strolling down our gravel road for a visit. Sorry about the pot holes and the bumps. After living along this gravel road for over 20 years, I've fallen in love with it. Maybe that's why I like to blog so much. To share its beauty and to keep you up-to-date on writing projects, what's good to read and watch, and new recipe experiments. Sometimes, I muse on current events, reflect on old memories, share a recent church newsletter column, or write about our most recent family adventure.
A Little Bit About Me
In 2003 I left teaching after 25 years as a classroom teacher to pursue a career as a writer and speaker. It was a risk, but God made his will so clear, it would have been a bigger risk not to follow it. For four years, I split my time between writing newspaper and magazine articles and working as Director of Discipleship and Assimilation at our church. During those years I landed an agent. We met at a writing conferences. Those conferences were a way to meet people in the publishing industry. Much better than waiting for them to find our little gravel road.
In September of 2009, Discovery House Publishers released my first book, A Different Dream for My Child: Meditations for Parents of Children with Critical or Chronic Illness. In November of 2011, the same publisher released Different Dream Parenting: A Practical Guide to Raising a Child with Special Needs. Since then, I've published three more books:
The Caregiver's Notebook (Discovery House, 2014)
Every Child Welcome: A Ministry Handbook for Including Kids with Special Needs (Kregel, 2015), co-authored with Katie Wetherbee
Does My Child Have PTSD? What to Do When Your Child Is Hurting from the Inside Out (Familius, 2015)
My agent is also pitching my first mystery novel, See Jane Run! to select publishers, also. The big YAHOO! you'll hear when you least expect it will let you know a contract's been offered.
Family Matters
Writing is so fulfilling, sometimes it's hard to put family first. But my patient husband, Hiram, supported my move from teaching to writing. So I try to stop writing at a decent time each day to fix supper – I like to cook as much as he likes to eat – and work on projects together around the house.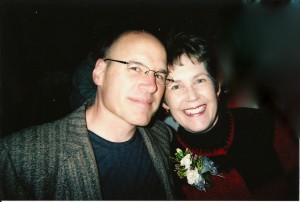 Our kids are out on their own and have given us 3 grandchildren so far. Weekend trips to visit them keeps us busy, and seeing life through their young eyes is delightful.
Make Life Easier
Instead of slogging down the gravel road every day, make your life easier by subscribing to the RSS Feed and receive each day's post in your email inbox. I post every weekday, so subscribing will make your life easier. Unless you need the exercise, in which case, I hope you enjoy your daily walks down our road as much as I do.
Keep In Touch
I love to keep in touch with readers by email and through your comments on daily blog posts. You can also find me on Facebook, Twitter, and LinkedIn.