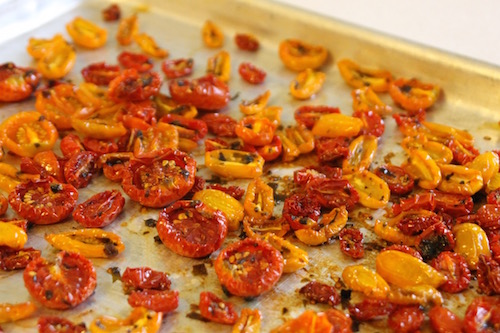 Tomato season is here. Every week since mid-July our CSA share has been packed with delicious slicing tomatoes and pint boxes of cherry and grape tomatoes. I've kept on top of the slicers, but the smaller ones were piling up faster than we could eat them. So last week, I took a recipe for oven-roasted Roma tomatoes and adapted it for cherry and grape tomatoes. About two-thirds of the roasted tomatoes found their way onto pesto pizza (just leave off the cheese to make it dairy-free) and the rest are in the fridge waiting to be used as one of many ingredients in pesto pasta. I liked the roasted tomatoes on the pizza. The Man of Steel wasn't quite so sure.
The recipe is very easy, though the tomatoes have to roast a long time, so be sure to start them early or prepare them a day or two in advance.
Slow Roasted Cherry and Grape Tomatoes
3 pints of cherry or grape tomatoes, or a combination of the two
1 tablespoon olive oil
1/2 teaspoon dried basil or 2 tablespoons fresh basil, chopped
1/2 teaspoon dried oregano or 2 tablespoons fresh oregano, chopped
1/2 teaspoon kosher salt
1/4 teaspoon coarse ground black pepper
Heat oven to 200 degrees. Wash tomatoes. Remove stems. Slice tomatoes in half and put in a large bowl. Mix remaining ingredients together in a smaller bowl. Pour mixture over halved tomatoes and toss until all are coated.
Spray 2 large cookie sheets with cooking spray. Pour half of tomatoes into each cookie sheet. Turn tomatoes so cut side is facing up. Like this: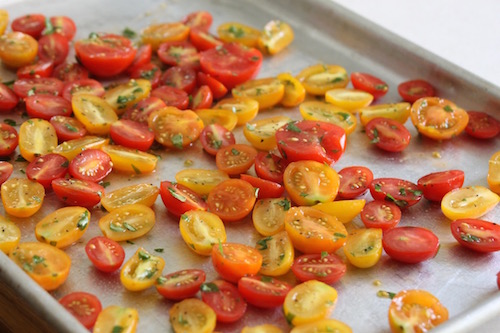 Put in oven and roast for 5 hours. Take trays out and remove tomato halves that are well-dried. Continue roasting the others for an hour to hour and a half, checking them every 30 minutes. Use immediately in other recipes or store in the refrigerator.