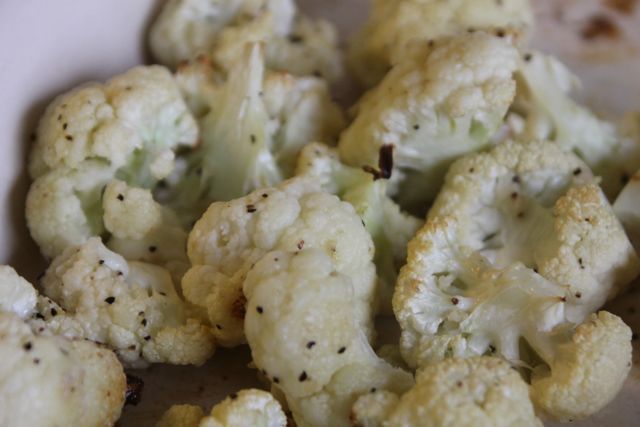 Before diving into today's recipe, you should know that I am not a cooked cauliflower lover. I like it raw, but not steamed, mixed with broccoli, or in soup. So I was a little skeptical during a weekend visit with family when the chef said the veggie for supper was going to be roasted cauliflower. I took a small helping, took a small bite, and experienced a small epiphany.
It. Was. Delicious.
Amazingly delicious. So delicious that I bought a head of cauliflower and gave it a try myself. I only used half the head for the two of us, in case my version wasn't as tasty as what we'd been served early. But once again, it tasted wonderful. And I have enough left to make it again very soon. Hooray! Enough with the swooning and onto the recipe. Here it is. The easiest, tastiest vegetable side dish ever…
Roasted Cauliflower
1 head cauliflower, washed and broken into florets
3 tablespoons olive oil
2 cloves garlic, pressed
1/4 teaspoon kosher salt
1/4 teaspoon coarse ground black pepper
Preheat oven to 450°. Oil a 9 X 13 casserole dish. Put cauliflower in a large bowl. Mix oil, garlic, salt and pepper together and pour over cauliflower. Mix well. Pour cauliflower into baking pan. Slide in the oven and bake for 20 minutes.