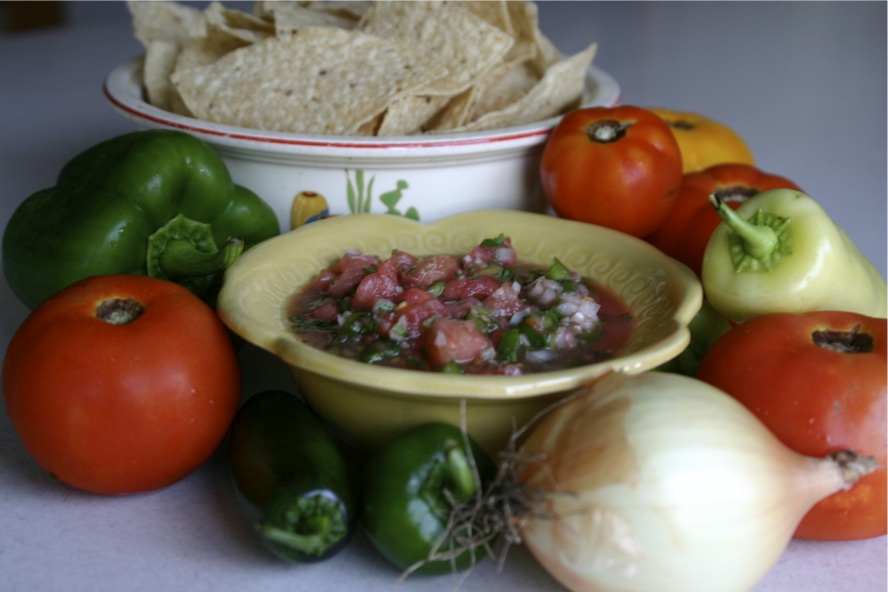 Salsa season arrived in style last week when a heat wave hit. For gardeners, hot summer nights = ripe tomatoes aplenty.
The equation held true for the gardeners at our local CSA. Thanks to their generous policy of allowing those who purchase CSA shares to take less the extra, less-than-perfect tomatoes home for free, I've had enough tomatoes to make salsa several times already. The last batch was so good, I decided to share Mom's old recipe for fresh summer salsa again. It first appeared on the blog in September of 2012.
The ingredient list and amounts are just guidelines, which can be changed to suit your taste and what's growing in your garden. Also, I chop the tomatoes first and put them in a strainer to drain out excess liquid while chopping everything else. Otherwise the salsa can be pretty runny. With those tips in mind, have at it!
Fresh Summer Salsa
2 cups peeled, chopped tomatoes        2 cloves garlic, minced
½ cup onion, chopped fine                    ¼ cup green pepper, chopped
1  jalapeno pepper, chopped                 1 banana pepper, chopped
¼ cup cilantro, chopped                        2 tablespoons lemon juice
1/4 teaspoon salt
Mix ingredients together in a bowl. Put 2/3 cup of the vegetable mixture in the blender until it reaches the consistency you like. Put the blended vegetables back into the bowl and stir well. Refrigerate at least two hours before serving to allow the flavors to meld. Serve with tortilla chips.
The salsa can be refrigerated for about 2 weeks…if it lasts that long.