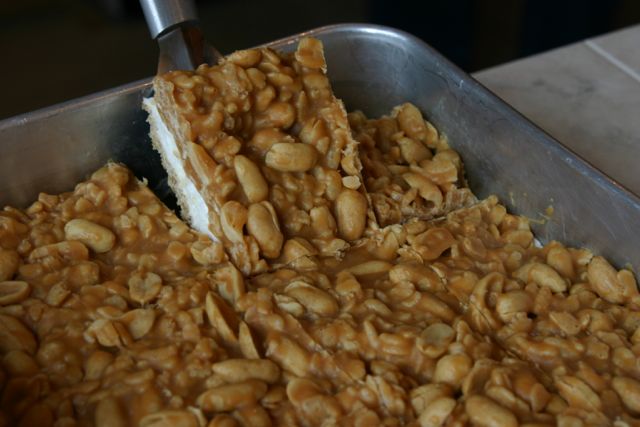 Since today is Halloween, I wanted to feature a treat that won't play tricks on people who are lactose intolerance or have dairy allergies. With a few modifications, this recipe for Salted Nut Roll Bars from the Shadow Valley Family Camp Cookbook does the trick. (Okay, I promise, no more puns.) All you have to do is swap the butter for margarine or coconut oil and they're good to go. To cut down on the sweetness, eliminate half or all of the brown sugar in the crust and decrease the amount of marshmallows.
Salted Nut Rolls
Crust:
1 1/2 cups flour
2/3 cup brown sugar
1/2 teaspoon baking powder
1/2 teaspoon salt
1/4 teaspoon soda
1/2 cup butter, margarine or coconut oil, softened
2 egg yolks
1 teaspoon vanilla
Heat oven to 350 degrees. Combine all crust ingredients until crumbly. Press into ungreased 9 x 13 pan. Bake 15 minutes. Immediately sprinkle 3 cups of miniature marshmallows over crust and return to oven for about 2 minutes. Marshmallows should puff. Remove from oven and cool.
Topping:
2/3 cup corn syrup
1/4 cup butter, margarine, or coconut oil
2 teaspoons vanilla
12 oz. package peanut butter chips*
2 cups Rice Krispies
2 cups salted peanuts
Heat syrup, shortening, vanilla, and chips in a sauce pan until smooth, stirring constantly. Stir in cereal and peanuts. Spoon over marshmallows and use knife or spatula to spread until marshmallows are evenly covered. Chill and cut into squares before serving.
*The peanut butter chips ingredient list includes whey powder and whey powder concentrate in third and fourth place out of ten items. The small amount doesn't bother me (in moderation, of course), but it could be a problem for someone with a severe dairy allergy:(