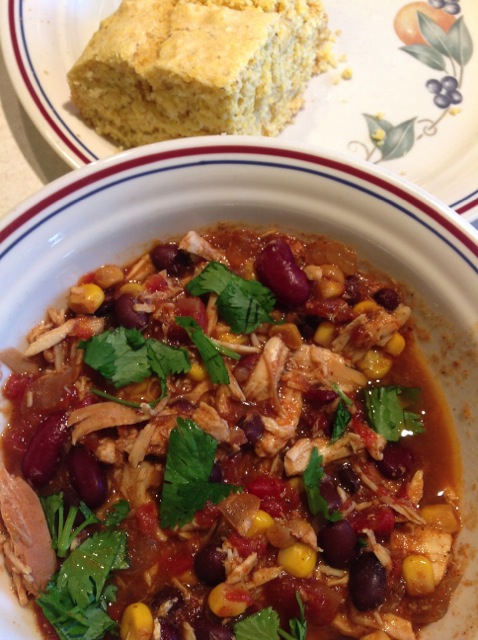 After yesterday's top ten list of chilly weather meals, today's post features a new recipe that might end up on next fall's list. This crockpot chili recipe took a little work to throw together, but it was worth it. The house smelled wonderful all day while it cooked, and it made so much chili, I froze half. Woo-hoo!
Served with cornbread, the meal received the Hiram coveted seal of approval, which doesn't happen often when beans are a major ingredient in a main dish. I liked it because it was hearty, low-fat, and dairy-free. Thanks to www.SkinnyTaste.com for first posting the recipe. Here's my version:
1 onion, chopped
1 16 oz. can black beans, drained
1 16 oz. can kidney beans, drained
1 8 oz. can tomato sauce
10 oz. package frozen corn kernels
3 10 oz. cans mild Rotelle tomatoes
1 package taco seasoning
1 tablespoon cumin
1 tablespoon chili powder
2 large skinless, boneless, chicken breasts
1/4 cup chopped fresh chopped cilantro
Combine onion, beans, tomato sauce, tomatoes, taco seasoning, cumin, and chili powder in crockpot. Place chicken breasts on top and cover. Cook on low for 10 hours or on high for 6. A half hour before serving, remove chicken. Allow to cool, then shred, and stir into mixture in crock pot. Serve, topping each bowlful with fresh cilantro. Add shredded cheese and sour cream if you like.