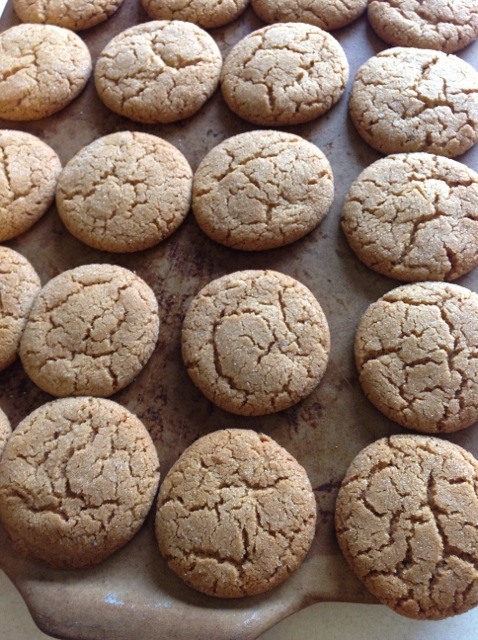 About six months ago, the man of steel decided to quit eating sweets to lower his blood sugar. Around the same time, my dairy allergy was diagnosed. Those events explain the dearth of dessert recipes posted on this blog for the last half year.
But once in a while, the hankering for something sweet hits, so I was delighted to find this cookie recipe that uses lard for shortening rather than butter. The original recipe called for Nutella, and I was eager to give it a whirl. But after discovering milk is a major ingredient in the chocolate and hazelnut spread, I decided to use almond butter instead.
The baked cookies were a beautiful thing to behold, every one round with a delicately cracked surface resembling a molasses crinkle. I named the finished product Almond Crinkles and proceeded to eat more than a few, but the man of steel's steely resolve served him well. He declined to taste even one, and I considered the remaining cookies too deliciously dangerous to remain in the house. So some went home with a friend, some went to our small church bonfire last weekend, and the rest went to the coffee bar at church Sunday morning. They received rave reviews from everyone. Here's the recipe so you can see what you think.
Almond Crinkles
1 cup lard
2 cups packed brown sugar (Next time, I'll drop this to 1 1/4 cups. They were too sweet)
3/4 cup almond butter
2 eggs
2 1/2 cups unbleached flour
1 teaspoon baking soda
1 teaspoon salt
1/4 teaspoon almond extract
Preheat oven to 350 degrees. If using baking stones, place them in the oven to heat.
Cream together lard and sugar. Add almond butter, almond flavoring and eggs. Mix until light and fluffy.
Add dry ingredients and mix well.
Form dough into balls about the size of walnuts. Roll balls in granulated sugar and place on ungreased baking sheets or on heated baking stones.
Bake for 12 – 15 minutes.
After you've had a chance to play with the recipe, leave a comment about any variations you made.