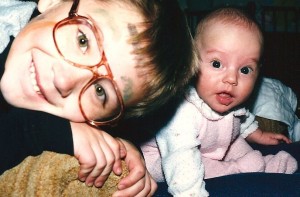 Last week's top ten list highlighted the positives of living in an empty nest. In the interest of full disclosure, this top ten shares what I miss now that the kids are grown and gone.
10.  Getting the kids out of the house was always a good excuse for going to the pool.
9.    Watching them play and wondering what they'll be like as adults.
8.    Getting goofy and giggling together.
7.    Seeing them learn from simple things like water, wind, and dirt.
6.    Belly laughs.
5.    Dressing up in costumes and playing make-believe.
4.    Reading aloud and getting lost in books together.
3.    Snuggles.
2.    Walking down the street, holding hands.
1.    Looking at the world through a child's eyes…again.
What do you other empty nesters miss about having little kids at home? Those of you who are raising youngsters, what will you miss when they're grown? Leave a comment.