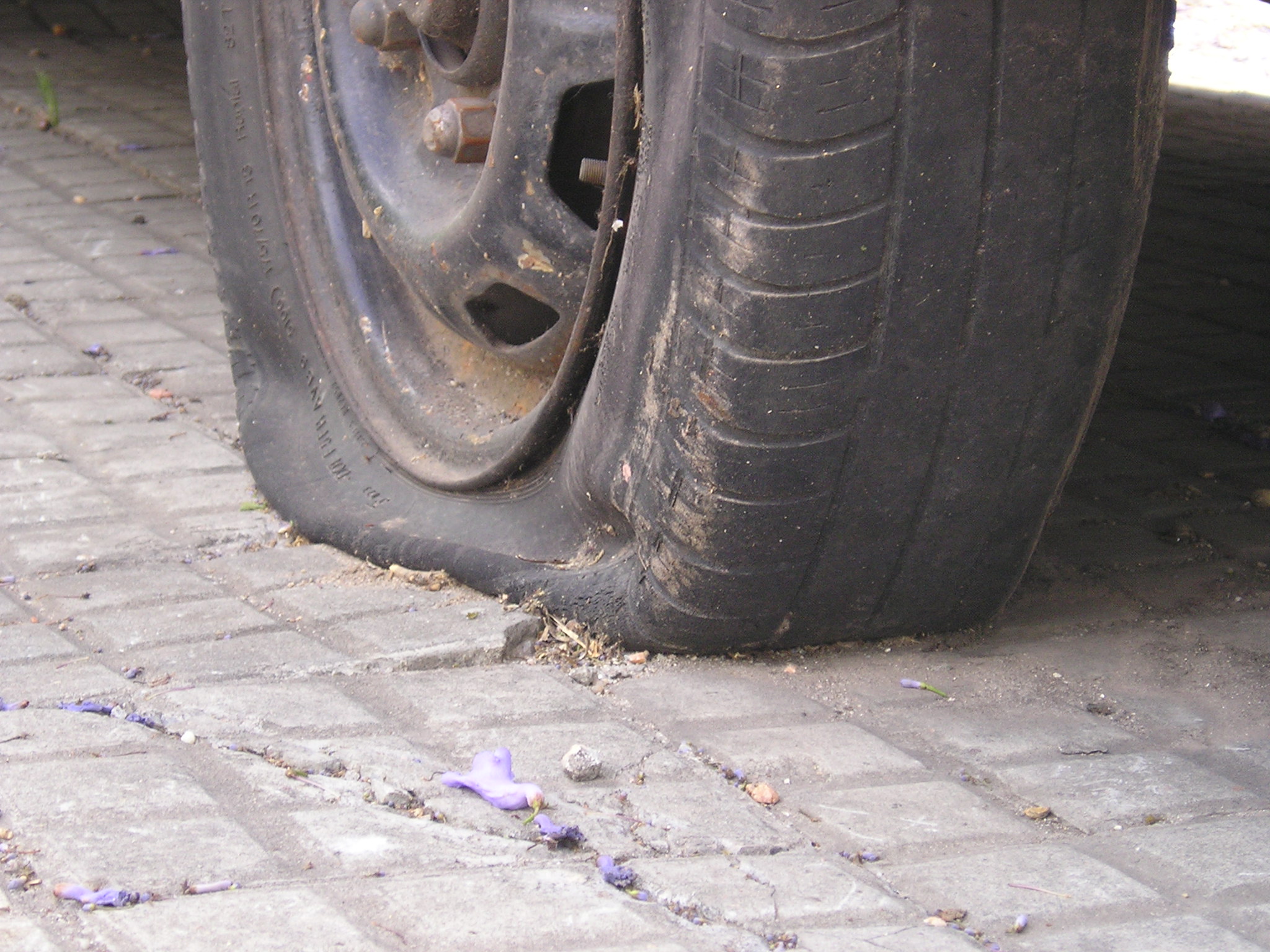 Too bad having a flat tire on the road isn't on my bucket list. If it had been, I could have checked it off Tuesday during the drive home from my weekly lunch date with Mom. I was heading and north, almost to the end of the Highway 17 bridge, when the road suddenly became very, very rough. I pulled onto the shoulder as soon as I reached the top of the hill and checked. Sure enough, the rear passenger side tire of Mom's car was flat. Exceedingly flat.
An hour later, I was headed for home at a sedate 50 mph, praying for the health of the donut spare tire the entire way and counting the top ten rubber-meets-the-road lessons learned that hot, dusty afternoon.
10.   AAA roadside insurance is worth every penny because it follows the person, not the vehicle. So the cost of the tire change was covered even though I was driving Mom's car.
9.    Cell phones are also worth every penny. By the time the first law enforcement vehicle stopped to check on me, I'd already called AAA and the man of steel.
8.    Making sure your cell phone is charged or taking your car charger with you, even on short trips is a good idea. Otherwise, you might get nervous when the battery starts running down. Not that I have any experience with that, of course.
7.    Having more than a quarter tank of gas is wise, even on short trips, so you don't have to turn off the car to save gas and sit in a sweltering car on a hot afternoon. Not that I have any experience with that either.
6.     Even if I had paid attention to the car changing lesson in my driver's ed class 40 years ago, and even if I had remembered how to change a tire 40 years later, my best efforts still would have been stymied. Because I couldn't lift the tire from the tire well in the trunk.
5.    The man of steel is a really nice guy. He left work early and was on his way to rescue this woman of aluminum when he heard AAA repairman had been delayed.
4.    What we told our kids about nice policemen and policewomen wanting to help people is true. One unmarked law enforcement vehicle and a sheriff's vehicle stopped to check on me less than 15 minutes after I pulled over and turned on the hazard lights.
3.    Good Samaritans still exist. A man stopped and offered to change the tire, but I declined. "Are you sure?" he asked, and I said, "Yes, my husband and a AAA truck are on their way." A few minutes later, a motorcycle riding Army National Guardsman also stopped. When he heard the man of steel and AAA were coming, he said, "But I hate to have you wait by the road." He identified himself, I popped the trunk, and he had the tire almost changed when the AAA fella arrived.
2.    Trevor McCarthy of the Boone Army National Guard unit is my new hero. Turns out he works at the armory down the road from us, he has a stepson with special needs, and he's read my books.
1.    God not only answers prayers for protection, sometimes he makes his presence crystal clear, as #8 and 9 show.
Trevor McCarthy, if you read this, thanks again for your kindness on Tuesday afternoon. Hats off to you and your fellow soldiers for all you do to make our country and world safe!