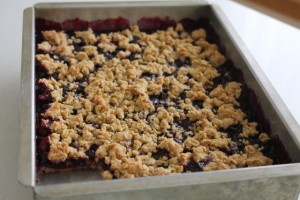 Today's recipe comes from the September 2012 issue of P31 Woman magazine. LeAnn Rice, who writes the recipe column, featured three different after school treats popular with her kids. Her blueberry crumble bars caught my eye because they sounded healthier than the average cookie or bar recipe.
Since they already used blueberries instead of chocolate, the only substitution necessary to make them non-dairy was to swap margarine for butter. (Finding dairy-free chocolate is difficult because even ordinary dark chocolate contains a small amount of milk.) I also swapped out some of the sugar for agave in the blueberry filling and cut the sugar in half for the dough. Finally, the original recipe said to mix the filling ingredients and pour them onto the dough. I mixed the filling ingredients in a sauce pan and then cooked them first. My mom often used that trick with pie fillings to 1) insure the filling was thoroughly cooked and would thicken properly, and 2) to cut down on baking time, and it accomplished the same purposes for the blueberry bars. With those caveats, here's the recipe.
Blueberry Crumble Bars
Filling:
4 cups fresh or frozen blueberries
1/4 cup agave syrup
4 teaspoons cornstarch
dash of cinnamon
1/4 teaspoon salt
juice of one lemon
Dissolve cornstarch in lemon juice. Then put all ingredients in a saucepan. Stir and cook over medium heat until the mixture boils and thickens. Set aside.
Dough:
2 cups all-purpose flour
1 1/2 teaspoons baking powder
1 cup rolled oats (not instant or quick)
1/2 cup packed brown sugar
1/4 teaspoon salt
1/2 teaspoon cinnamon
2 sticks butter, margarine, or other shortening
Preheat oven to 375˚. Grease a 13 x 9 baking dish or spray with non-stick cooking spray. Combine dry ingredients in a large mixing bowl. Add the butter and blend with a pastry blender or by hand until mixture is crumbly.
Press half the mixture on the bottom of 13 x 9 pan. Pour blueberry mixture over the dough and spread evenly. Sprinkle remaining dough on top of blueberry filling. Bake for 35 minutes until the top is golden brown. Remove from oven and cool on a wire rack. Cut into squares once completely cooled. Store in an airtight container in the refrigerator.