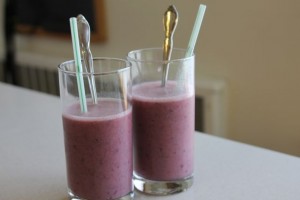 In the past couple months, I've spent a significant portion of my days in waiting rooms. Age has taught me that rather than being frustrated by the hours wasted, it's better to  read the magazines I never have time to read otherwise.
Sometimes the new mindset has positive rewards, like today's recipe for a non-dairy fruit smoothie. It was first published in Family Circle, I think the August 2011 issue. (Obviously, that waiting room wasn't concerned about the freshness of their reading matter.) The recipe caught my eye because it calls for sherbet rather than yogurt – a wonderful substitute for smoothie lovers who can't do dairy. Here's the recipe with the original ingredients in parenthesis following my substitutions.
Non-Dairy Fruit Smoothie
1 banana, sliced
1/4 cup blueberries, fresh or frozen
1/4 cup sliced strawberries, fresh or frozen
3/4 cup almond milk (3/4 cup milk)
1/2 cup pomegranate-blueberry-grape juice or some similar combination
1/2 cup raspberry sherbet (1/2 cup pineapple sherbet)
Place all ingredients in blender and mix until all ingredients are liquified. Pour and enjoy. Serves two.
Now it's your turn to play with this basic recipe to suit your taste buds. Leave a comment about the tasty changes you've made.