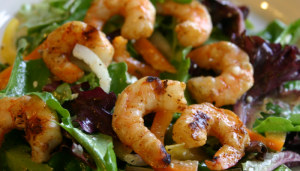 We were on the road so much last week I hardly had time to cook, let alone try a new recipe. So today, for readers still unsure of what to fix for a Fourth of July meal,  here's a rerun of our current favorite summer grilling recipe. It meets all my criteria since it's easy, tasty, healthy, and makes decent left overs.
We had it for supper Monday night, for the first time with fresh oregano from my new herb garden. Oh my, oh my, oh my, was that delicious. So give it a try and leave a comment about how it goes over at your house.
Greek Salad with Grilled Shrimp
1 head romaine lettuce chopped (or an equal amount of other greens)
2 sweet peppers, chopped
1/2 medium onion, chopped
1/3 cup kalamata olives, pitted
1/2 cup crumbled feta cheese
(The original recipe called for two chopped tomatoes and a chopped cuke)
Toss all together in bowl and put in refrigerator. Then prepare the shrimp as follows.
1 pound raw shrimp, shelled and with tails off
1 1/2 teaspoon olive oil
1 teaspoon cajun or creole seasoning
Toss shrimp with oil and seasoning. Thread on skewers and grill for 1 – 2 minutes per side, until shrimp is done. Put on a platter.
Mix together the juice from 1/2 lemon, 3 tablespoons olive oil, 1 teaspoon dried oregano, and freshly ground black pepper to taste. Drizzle over lettuce mixture and toss well. Divide equally among 6 plates. Arrange shrimp on top and serve.