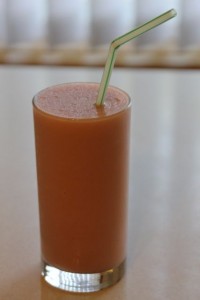 A cantaloupe smoothie is not something I would have tried in a normal summer. But this summer's far-from-normal heat and drought is playing havoc with our community supported agriculture (CSA) shares. This week, the heat caused all the melon fields to ripen at once, so our friendly, local farmer sent us home with three large melons…and a couple recipes for cantaloupe smoothies.
Hiram, my husband who eats almost anything, doesn't like smoothies much. Or cantaloupe for that matter, so this recipe will never get his coveted seal of approval. I was a bit skeptical, too, but with three melons staring me in the face, what was there to lose? My first sip of the concoction was disappointing. But gradually, the flavor grew on me, and the drink was extremely refreshing on a hot, hot day. The recipe below is non-dairy, with the dairy equivalents in parentheses.
Cantaloupe Fruit Smoothie
2 large slices cantaloupe, peeled, seeded and cubed
1/2 cup crushed ice
1/2 cup almond milk (skim milk)
1/3 cup raspberry or orange sherbet (3 ounces yogurt)
1 tablespoon honey (if using yogurt)
Put all ingredients in blender and process until smooth. Serve immediately. Makes two small or one large smoothie.