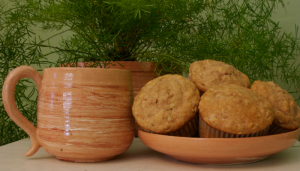 This week's been a bust, at least as far as finding time for cooking and blogging goes. So today, I'm posting an updated recipe for Honey-Oatmeal Muffins that originally ran in January of 2011. It was a favorite with readers then. It was also a favorite with a couple friends who did yard work for us this past weekend. The least we could do, after they slaved in the sun and heat for a few hours, was offer them food and drink.
Here are my updates to the original recipe, which is posted below. First, I now add 1/4 cup milled flax seed to every batch. Second, I still use buttermilk for Hiram's muffins, but mine are now made with sour rice milk. (Sour by adding 1 tablespoon vinegar per cup of rice milk and let sit for 20 minutes.)
Honey-Oatmeal Muffins
1 egg, beaten                           1/3 cup corn oil
½ cup honey                            1 cup buttermilk
1 cup whole wheat flour            ¾ cup white flour
1 cup oatmeal                           ½ teaspoon salt
1 teaspoon baking powder        ½ teaspoon baking soda
Preheat oven to 350 degrees. In a medium bowl combine beaten egg, oil, buttermilk and honey. Stir. Mix the dry ingredients together and add to liquid mixture. Stir by hand until dry ingredients are moistened, but batter is still lumpy. Line muffin pan with muffin papers. Spoon batter into cups until they are ¾ full. Bake for 20 – 25 minutes until the edges turn golden brown. Serve them warm. Or let them cool and store in gallon freezer bags. Makes one dozen.