Community Supported Agriculture (CSA) season is here, so every week we pick up a bag of fresh picked veggies and fruits at Wilber's Northside Market. Last week's bag contained 4 ears of sweet corn, sugar snap peas, 2 quarts of strawberries, a bag of lettuce, and a half dozen, medium-sized onions. The CSA weekly newsletter ran a recipe for grilled red onions, which Hiram and I tested on Father's Day. The results were delicious, so I'm sharing my adaptation of the side dish with you today.
Grilled Red Onions
4 large red onions
4 bacon strips
8 garlic cloves, peeled
6 oregano sprigs
2 teaspoons red wine vinegar
1 tablespoon olive oil
salt and pepper to taste
Cut red onions into wedges and quarter 8 bacon strips. Place in medium bowl and toss with remaining ingredients.
Divide between 2 large pieces of foil; seal into flat packets.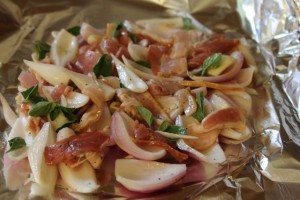 Grill over high heat, 15 minutes. Let rest before opening.
The grilled onions were delicious, though I think we cooked them a little longer than necessary. Next time we make them, I'll skip the olive oil, as the bacon provides enough fat to keep the veggies from sticking to the foil. Also, I may use some of the other spices in my kitchen garden – rosemary, thyme, chives, parsley – to see how the flavors change.
What variations do you suggest? Leave a comment