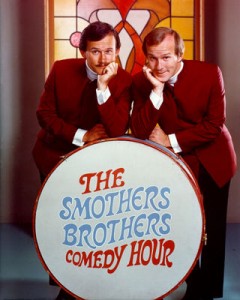 The hubby's nursing a back injury this week, and watching DVD episodes of the old Smothers Brothers Comedy hour helps him pass the time and led to these three thoughts for Thursday:
I think Tom and Dick changed from blue jackets to black jackets to red jackets to yellow jackets to show off 1967′s amazing new technology: color television!
In 1967, all the political, sexual, and drug-related innuendo went over my eleven-year-old head. In 2012, I wonder how the innuendo went over the censors' heads.
Tommy Smothers is a comedic genius, living proof that laughter is the best medicine.
Are you a Smothers Brothers fan? Leave a comment about your favorite memories or thoughts.