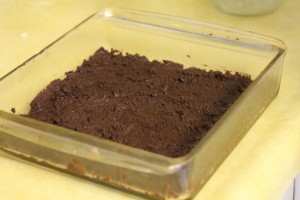 Today's recipe comes compliments of my daughter, Anne who showed me how to make these chocolate bars a few weeks ago. She found the recipe at Chocolate Covered Katie,  a very fun website that features healthy desserts. Katy's name for this recipe is Three Ingredient Chocolate Bars since she's into easy, while my title highlights the non-dairy thing. Whatever the emphasis, these chocolate bars are delicious and can easily be adapted by adding nuts, flavorings, dried fruit, breaking up to use as chocolate chips or melting for use as chocolate sauce.
Non-Dairy Chocolate Bars
1/2 cup plus 1 tablespoon cocoa powder
4 tablespoons unrefined coconut oil
1/4 cup agave or use NuNatural vanilla stevia drops (Katie uses 10 drops. Anne used stevia powder dissolved in 1/4 cup water. I used agave as the stevia chocolate was to bitter for my taste. The agave chocolate is chewier, while the stevia verison is more snapable. Anne said she recently used honey and that was good, too.)
optional: extracts, cocoa nibs, nuts, dried fruit, coconut, chow mein noodles, crispy cereal, oatmeal
Place coconut oil…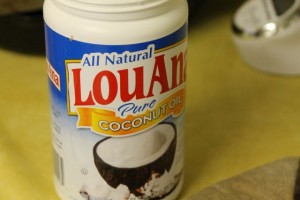 …in a saucepan and melt over low heat.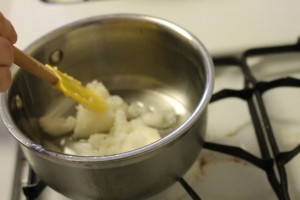 Add agave or stevia. Stir, then add cocoa powder (and add 3-4 T water or nondairy milk if using stevia.).
Stir stir stir!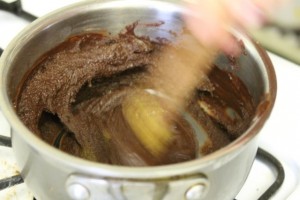 Stir until it gets thick. (Caution: I took Katie's command to stir, stir, stir to heart. Apparently too much to heart as some of the oil separated from the rest of the mixture. So stop stirring as soon as it thickens. It doesn't take long.)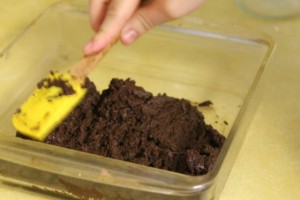 Pour into any flat container (or candy molds or smush between layers of wax paper or in ziploc bags).
Fridge or freeze until solid. Cut into bars, break into chips, melt back into chocolate sauce. The sky's the limit with this recipe. So give it a try and leave a comment about how you adapt and use it.