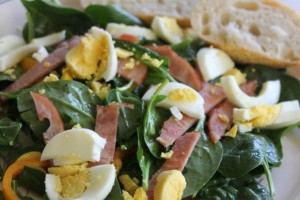 When I read the name of recipe in USA Weekend Magazine the weekend before Mother's Day, my reaction was…breakfast salad? Are you kidding me? But a quick skim of the ingredients showed the recipe met the requirements for our healthy eating checklist:
Non-dairy for me √
No sugar for Hiram √
Lots of veggies for both of us √
High protein for high exercise days √
Easy to make √
Easy to substitute ingredients √
So last night, we tried the recipe – turning it into supper salad by serving it with baguette on the side – and it immediately received the coveted Hiram seal of approval. Not a wow-this-is-good seal of approval. But a wow-how-soon-will-you-serve-this-again seal of approval. Yup, it was that good. Don't take my word for it, though. Try it and leave a comment about your family's reaction to breakfast salad…any time of day.
Breakfast Salad
8 slices Canadian bacon (original recipe called for 4, but no way would Hiram go for that)
3 tablespoons extra-virgin olive oil
2 tablespoons lemon juice (original recipe called for balsamic vinegar)
1/2 teaspoon Dijon mustard
salt and pepper to taste
8 cups lightly packed, washed baby spinach leaves (about 8 ounces)
1/2 cup sweet red, orange, or yellow pepper thinly sliced (original recipe calls for 2 cups cherry tomatoes, cut in half)
4 hard-boiled eggs, peeled and chopped
Cook Canadian bacon in lightly oiled skillet over medium heat until golden brown, about 5 minutes, turning once. Remove from skillet and cut into 1/2″ strips. Set aside.
In a small bowl, whisk together oil, lemon juice, mustard, salt, and pepper. Place spinach leaves and sweet peppers into a large serving bowl. Add dressing and toss to coat evenly. Spoon spinach/sweet pepper mix evenly onto four dinner plates. Top each serving with 1/4 of egg and Canadian bacon. Serve immediately.