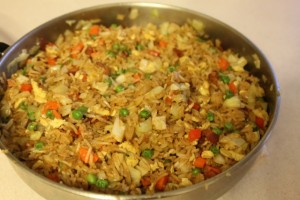 A few days before we went on vacation last month, I cleaned out the fridge and made supper in one fell swoop. How was such a feat of daring and skill accomplished? By using the leftover vegetables and meat in the refrigerator to make fried rice.
Because this dish uses leftovers the recipe is very adaptable. I've done my best to create oodles of options in the instructions below. But you can add your own touches, too. Vegetarians can leave out the meat. Onion haters can leave out my favorite vegetable while onion lovers can add more. The only thing you have to include is the rice!
Clean Out the Fridge Fried Rice
1 cup uncooked rice
3 tablespoons olive oil
Any combination of the following vegetables, about 1/2 – 1 cup of each: peas, corn, chopped broccoli, onion, sweet pepper, green beans, cabbage, or carrots
3 eggs
1/2 – 1 cup of one the following cooked, finely chopped meats: ham, bacon, pork, turkey, chicken, or beef
1/4 – 1/3 soy sauce
In medium sauce pan, cook rice according to package directions.
Heat 1 tablespoon of oil in a frying pan over medium-high heat. Break eggs into a bowl and beat well. Pour into frying pan and scramble. Transfer cooked eggs back into bowl.
Heat remaining oil in frying pan over medium-high heat. Add veggies, one kind at a time, starting with the carrots and broccoli. Stir fry for half a minute, then add next kind of veggie until all are in pan. Add meat and stir fry for about a minute more.
Add cooked rice. Stir fry and mix well. Pour in soy sauce. Stir fry until rice mixture is evenly coated. Add cooked eggs and mix well. Serve hot. (But the leftovers are delicious cold, too!)