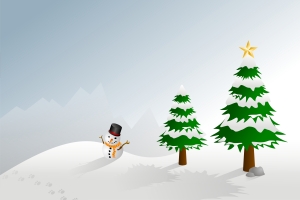 Only three weeks until the kids arrive to celebrate Christmas, and there's no snow in the yard and no presents under the tree. As soon as I think three thoughts for Thursday, maybe I should order a snow making machine or start wrapping presents…whichever is easier, that is.
How can a robo call about "a very important message about your credit card account" be all that important? If it was, wouldn't a real person be on the line?
After a day spent sprucing up Mom's old metal stool, I'm wondering why anyone huffs spray paint.
To whoever invented the chocolate used for dipping pretzels and Ritz cracker and peanut butter sandwiches…you had a much better idea than whoever invented spray paint for covering old metal stools.
How about you? What's on your mind this Christmas season? Leave a comment!