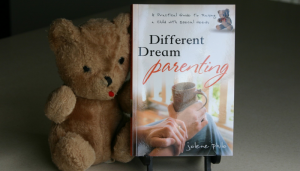 I am proud to announce the arrival of Different Dream Parenting: A Practical Guide to Raising a Child with Special Needs. The cutie arrived this morning with very little warning. I barely had time to answer the door before the UPS man delivered the bouncing, baby book, swaddled in a bubble wrap envelope.
The man in brown left in a hurry, so I had to remove the protective covering alone. One rip and one pull, and the new baby was in my hands. After a few glorious minutes checking to see if all 24 chapters and 6 appendices were present and accounted for, I snuggled this little charmer next to the cherished family teddy bear and started taking pictures.
Different Dream Parenting (nicknamed DDP) is heftier than older sibling, A Different Dream for My Child (known as Different Dream). The new arrival weighs in at 336 pages compared to 272 pages for Different Dream. But one look at both of them, and there's no doubt they're from the same family.
If you want to see DDP this month, you'll have to stop by the house for a visit. If you want your own copy before November 1, you can visit the Discovery House Publishers website and purchase your own beauty. (List price is $12.95, but the website price is $11.65.)
After November first, DDP will be available at books stores, Amazon, Christian Book Distributors. From that day on,  DDP will be running around FaceBook, Twitter, the blogosphere, and who knows where else. So keep your eyes open for this busy member of the Philo clan.
If you see DDP when you're out and about, help the new arrival get around. Give my baby legs and wings. Buy the sweet thing. Take DDP home to read. Or give the book to someone who needs the encouragement inside its covers. Help DDP find the special needs families it was born to touch.
Welcome to the world, Baby Book!