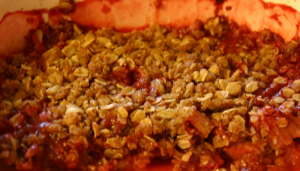 Nestled at the bottom of today's Community Supported Agriculture (CSA) bag were two quarts of beautiful, hand-picked strawberries. This is the third week of strawberries Hiram describes as "red all the way through."
That red translates into flavor all the way through and means the berries have to be used quickly. So as soon as I got home today, I picked some rhubarb and threw together a strawberry-rhubarb crisp – quicker than a strawberry-rhubarb pie and just as delicious. So give this recipe a try. If you have rhubarb, but not strawberries, use twice as much rhubarb and a little more sugar.
Strawberry-Rhubarb Crisp
2 cups sliced rhubarb
2 cups strawberries, hulled and sliced
3/4 – 1 cup brown sugar
1/2 cup flour
1/2 cup oatmeal
2/3 cup softened butter
1 teaspoon cinnamon
Preheat oven to 375 degrees. Put fruits in a 9 x 9 glass or ceramic pan and mix together.
Combine sugar, flour, oatmeal, and cinnamon in a medium bowl. Cut in softened butter. Spread over fruit. Bake for 40 – 50 minutes until topping is brown and fruit is bubbling. Serve warm with ice cream, milk or cream.