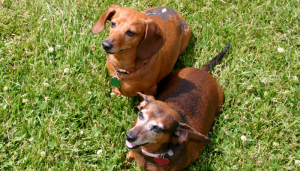 So the ransomed of the Lord will return,
And come with joyful shouting to Zion;
And everlasting joy will be on their heads.
Isaiah 51:11  
Not too many years ago, we owned Abby, a yippy, snippy, little dachshund whose bark was much bigger than her brain. Once Anne left home, Abby grew increasingly nervous and unhappy. Eventually, she moved in with my brother, his wife, their two daughters and two dogs. She now lives in the closest thing to dog heaven on earth and is happy as a clam, though she's a dog, not a clam.
Two months in dog heaven and Abby forgot me. With never a fair-thee-well, she transferred her affection to my sister-in-law, who loves the traitor unconditionally. Abby even forgot Hiram, who was the light of her life for many year once he gained her trust. Until she left us, he was the object of every speck of doggy devotion she could muster, which wasn't much due to her small cache of brain cells.
But during a recent visit at the bro's family, Hiram walked in and his presence sparked something in Abby's itty bitty brain. She wiggled at his feet, ran around the house with youthful vigor (a mighty feat since she's several pounds overweight and her belly drags on the floor), wiggled at his feet again, ran around again – like she did when she lived with us. Hiram patted her head, and she squirmed with delight at his touch.
Hiram welcomed her flighty love without rancor though he knew she would soon forget him. He didn't begrudge the many hours spent proving his faithfulness to the younger Abby who had never before experienced such lavish love. He welcomed her fleeting affection, no strings attached.
I smiled as the silly little dog worshipped at his feet. Suddenly, a truth dawned on me. God loves me like that. No matter what I do, no matter how I presume upon His kindness, no matter how long I ignore His presence, God loves me just like that. He is always near, waiting for me to recognize the sound of His voice, the tread of His step. Waiting for the memory of His love to jog my brain which is far too small to comprehend His being. Waiting for the reality of His love to revive my joy, to send me running in circles, wriggling at His feet, squirming with delight as His hand touches my head.
God loves me – a silly, flighty woman with feet of clay – like that.
God loves you like that.
Not because of who we are, but because of who He is: the God who ransoms sinners by His love. Love from a God like that is the closest thing to heaven on earth, a place of peace and rest and worship.
It is eternal life.