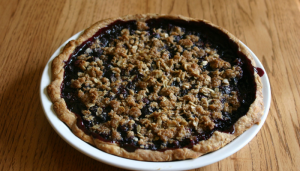 Yeah, yeah, yeah. I know you've seen this picture before, and I'm sorry. Can I plead pre-school reunion excitement coupled with wedding excitement as the reasons for no photo of the bang-up blueberry crisp we ate last Thursday evening? If those aren't enough, I'll throw in the 18 pints of blueberries waiting to be frozen the same day.
Now you're probably thinking, "Is this woman nuts, freezing 18 pints of blueberries right before her class reunion and a week before her daughter's wedding?"
The short answer is yes, this woman is nuts. But, here's the longer answer. Blueberries were on sale for $.99 a pint. That's right. $.99 a pint. With a price like that, the lowest in years, I bought 22 pints, froze 18 and used 4 for the bang up blueberry crisp mentioned (but not photographed) above. Normally, the crisp would use 2 pints, but I doubled it so Hiram had good eats while the womenfolk headed north to the school reunion.
Enough said about them doings. Here's the recipe which is basically an adaptation of the crumb top blueberry pie posted a few months ago, minus the crust and with a beefed up crumb topping. See what you think…and if you have other good blueberry recipes, send them this way. With 18 pints in the freezer, I've got enough berries to give them all a whirl.
Blueberry Crisp
Filling:                                                                                Topping:
2 pints fresh blueberries                                                     1/3 – 1/2 cup brown sugar
1/4 cup sugar                                                                    1/2 cup flour
2 1/2 tablespoons minute tapioca                                      1/2 cup oatmeal
1 tablespoon lemon juice                                                   1/2 teaspoon cinnamon                                                                           1/3 cup softened butter
1/8 teaspoon cinnamon
1/4 teaspoon salt
Preheat oven to 375 degrees. Wash blueberries and pick off any remaining stems. Put in a large bowl. Add lemon juice. In small bowl, mix together 1/4 cup sugar, tapioca, 1/8 teaspoon cinnamon and salt. Mix into berries. Pour mixture into a 1 quart baking glass baking dish.
In another bowl, mix dry topping ingredients together, then cut in butter until crumbly. Sprinkle evenly over berries. Bake for 30 – 35 minutes, until berries are bubbly. Serve warm with ice cream…double yum!