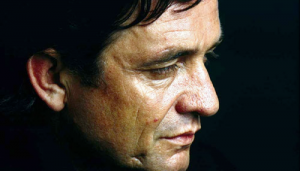 On a recent road trip to Minneapolis, I listened to the NPR interview show Fresh Air, which rebroadcast an interview Terry Gross did with Johnny Cash in the late 1990s. He was in the news because 1) February 26 was the anniversary of his birthday, and 2) the last in his American Recording Series, Ain't No Grave, was released to coincide with his birthdate
I wasn't a country western fan in my youth, and my generation spent more time ridiculing Johnny Cash than listening to him. But Gross's interview with the aging singer and his obvious love of music made the interview a delight. You can listen to it or download the transcript by clicking here.
After the rebroadcast, Gross interviewed Rick Rubin, the record producers who collaborated with Cash on the American Recording Series. Gross and Rubin spent much of the interview talking about the CD in the boxed set which is all Cash singing his favorite hymns and spirituals solo. In the interview, Rubin describes the impact of Cash's witness through an everyday moment. To hear what Rubin said or download that transcript, click here.
Once you listen, you may understand why Johnny Cash is my new homeboy.
Thanks, man in black.