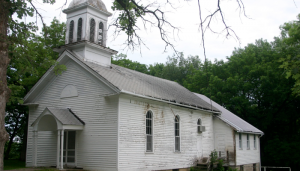 If you read yesterday's post, you know I received an unexpected and lovely email a couple days ago. Turns out, the sender is the niece of woman who led the music during that long ago summer. She called the article "a loving tribute to my Aunt Dorothy the 'old maid chapel director.'" She went on to say, "Aunt Dorothy Dunlop taught all the camps that one summer all the verses to How Great Thou Art. I remember we sang the new verse of the day and the verse from the previous day while the tables were being cleared by the designated table runner. Thank you for such a wonderful piece."
For years, I've retained a mental image of the woman who taught us her favorite hymn, thereby passing on a heritage of faith to a new generation. The print summer dress she wore day after day is indelibly etched in my mind. But her name, I forgot long ago. Now, due to an unexpected and lovely chain of events, she has a name again.
Dorothy Dunlop.
For forty years, I've thought of her – the woman in the summer dress, her arms energetically directing our singing, her high-pitched voice warbling above our childish ones – whenever How Great Thou Art was sung. For forty years, I've wondered who she was, where she was. I've wanted her to know how she became a cherished memory and part of the heritage I'm passing down to future generations. Now, because of her thoughtful niece who sent the email, I can express the gratitude that's swelled within me for decades.
Thank you, Dorothy Dunlop, for enriching my life and the lives of a summer's worth of wiggly campers. For all of us, thank you, thank you for the great thing you have done.
Then sings my soul,
"My Savior God, to Thee.
How great Thou art.
How great Thou art."