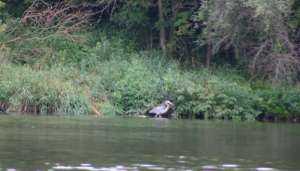 Last night, Hiram and I went pseudo-camping with our small group from church. The real campers hauled out tents and trailers for the whole weekend, even though rain was predicted. The pseudo-campers like us ate supper with the real McCoys and then went home to sleep in our nice, dry beds.
Hiram and I pseudo-camped for the sake of everyone else in our small church group. See, typical authentic camping experiences with the Philos culminate with a flooded tent, large hail, strong winds, a collapsed tent, thunderstorms, tornado warnings or any combination of the above. Considerate people that we are, we pseudo-camped and saved our closest friends from great danger.
This morning, once we knew everyone was safe, we went back out for the camp breakfast and the floating worship service on the deck of a pontoon boat. But the weather was still iffy, and pseudo-campers like me lobbied hard to move the service to the campground gazebo, complete with a leakproof roof. But the real campers carried the day, and we piled onto the pontoon as grey clouds swirled above us and a damp breeze blew around us.
Once we got to the middle of the lake, with the blue herons feeding near the shore, our worship service began. Hiram led the singing, and after he prayed Steve taught a Bible lesson.
Then Rita, who months ago challenged us to step out of our comfort zones and live our faith boldly, asked us to tell how we'd been doing that. So we talked about how God is working in and through the lives of a handful of people, not even enough to pile onto a pontoon boat and sink it.
After church, Hiram and I drove home and talked about how refreshing the worship service had been. No stirring of pseudo-emotions, no showboating of pseudo-holiness, no spouting of behind pseudo-platitudes. Just the stories of an extra-ordinary God at work in ordinary people, which reminded us of a wonderful truth: God loves His people and works through them in amazing ways.
That's a message of real encouragement and real hope for a couple of pseudo-campers like us. No wonder we were refreshed.